Australian Standard 3660.1 notes certain devices that can be installed during the building process, including

---
Termite or "Ant caps" on brick piers and walls at floor joist height on suspended floorings. This method does NOT stop termites - they often build their mud-shelter tubes around the metal capping.

---

Protection of wall cavities can be provided using physical barriers, such as, TermiMesh (stainless steel), GranitGard (crushed granite) or Kordon (plastic insecticide blanket). We recommend Kordon TMB or Kordon TB be installed in most instances and a plastic collar cemented into the concrete slab around the plumbing penetrations to guard against termite entry via this location.

---
PLEASE NOTE: these physical barriers do NOT protect the most common termite entry point, being around the external perimeter, most often being around the concrete floor slab edge and into the wall and roofing timbers via weep holes in wall cavities.

---
The TermGuard Piping System should be installed in the soil around the external perimeter, that is, before garden beds, pavers, pathways are in place. This allows easy and inexpensive chemical soil barrier treatment of this very high risk termite entry point at any time in the future.

---
Reticulation (piping) Chemical Retreatment Systems allow for the easy and inexpensive Chemical Soil Barrier Retreatment at any time in the future.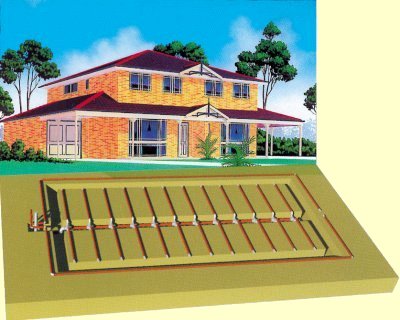 Home Builders & Architects - please contact us for further information.