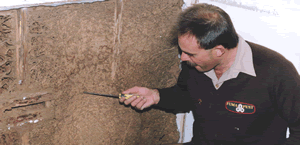 Picture of a termite inspector examining an above ground termite nest built inside a wall cavity of a home.
---
Termites build such nests, where moisture collects in the wall cavity, from leaking pipes, shower recess, guttering, etc.
---
Your best protection - arrange for a Termite Inspection and Report to Australian Standard 3660, including written specifications for a complete Termidor soil barrier treatment (where practicable) to protect your home. Prevention is better than cure.